Wrist braces that are both comfortable and stylish. 
Soft and comfortable
With a fleece lining and soft cotton shell, there are no rough bits to catch or rub your skin. Comfy enough to sleep in.
Made for daily life
The support you need with just enough flex to let you do everything you want. Put it on and get back to normal life.
Machine washable
Never worry about dirt or spills. Just toss it in the wash with the rest of your laundry and tumble dry. Easy-peasy cleaning.
Limited-edition prints, priority order fulfillment, and 10% off purchases. And best of all, it's free. What's not to love?
⭐⭐⭐⭐⭐ AMAZING! Besides incredible customer service, the product itself is fantastic! I type a lot & often get bad pain in my wrists which get worse because of the way I curl my hands while sleeping. I've tried so many supports which work ok but are always too bulky, sometimes insecure falling off during the night & some with sharp edges that have scratched my face. (No idea who I'm fighting while sleeping.) Lately they've been extra bad while working from home lacking good ergonomics. Glad I bought 2. They're adorable, super comfy, lightweight enough that they don't leave my hands/wrists sweaty yet sturdy & secure. They're also easy to put on & take off quickly in the dark. Best of all...they work!! Been wearing them every night & the pain has subsided. I will be ordering more. Very highly recommended! Thank you!
⭐⭐⭐⭐⭐ I love it! Soft and immobilizes exactly in my problem area for carpal tunnel syndrome. Great customer service and Seabrooke even gave me a tutorial for a minor alteration I wanted to do myself. I love the music material!!!
⭐⭐⭐⭐⭐ I had a custom order with extra braces put in. I use these to prevent my 4 yr old autistic daughter from wrist/hand biting. This is my second order (due to her growing out) and I am beyond amazed. Excellent and fast service. Excellent product. We got so many compliments on them. They are so cute! Thank you!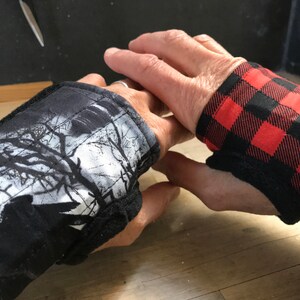 ⭐⭐⭐⭐⭐ My new wrist braces (one for each hand), fit beautifully, look terrific and make my hands feel so much more secure than they did. They are a joy to wear (even mowing the lawn), and a pleasure to see every time I catch a glimpse. Thank You Seabrooke!